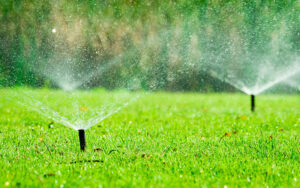 Sprinkler & Irrigation Services in Dallas, TX
Welcome to Lawn Sense, your trusted partner for all your sprinkler & irrigation systems. Our team of experienced professionals will keep your lawn healthy and vibrant with our top-notch services. With our expertise and commitment to customer satisfaction, we offer a wide range of sprinkler & irrigation services to meet your needs. Discover how we can help you maintain a lush and beautiful lawn.
Lawn Sense is Here for All of Your General Sprinkler Repair Needs!
Upfront pricing – you'll never pay more than you're quoted
Expert advice from professional, licensed & certified technicians
We'll only sell you what you need
We stock enough parts in our trucks to do 93% of repairs on the spot
We stand by all recommended repairs
Flexible scheduling, ask about same-day service!
Still, have questions? Contact us for all your General Sprinkler Repair questions!
Sprinkler Backflow Repair
Our skilled technicians specialize in sprinkler backflow repair to ensure the safety and purity of your water supply. Backflow issues can lead to contamination, posing health risks to you and your family. With our advanced tools and knowledge, we will identify and repair any backflow problems, safeguarding your water source and ensuring clean, reliable irrigation.
Learn more about sprinkler backflow repair services >>
Sprinkler Fault Locating
Is your sprinkler system not functioning correctly? Our fault-locating service will pinpoint the exact issues in your system. We utilize advanced diagnostic techniques to identify electrical faults, damaged valves, or other malfunctions. By accurately identifying the problem, we can efficiently and effectively restore your sprinkler system's performance.
Learn more about sprinkler fault location services >>
Sprinkler Head Repair
Damaged or malfunctioning sprinkler heads can result in uneven watering and wasted water. Our experts excel in sprinkler head repair, ensuring each head operates optimally for uniform coverage. By replacing or repairing damaged chairs, we help you conserve water and promote healthier growth in your lawn.
Learn more about sprinkler head repair services >>
Sprinkler Leak Detection
Undetected leaks in your sprinkler system can lead to excessive water waste and damage to your landscape. Our professionals employ cutting-edge technology to detect even the most minor leaks. By promptly addressing and repairing these issues, we conserve water and save you money on your utility bills.
Learn more about sprinkler leak detection services >>
Sprinkler Repair
If your entire sprinkler system is experiencing issues, our comprehensive sprinkler repair service is here to help. Whether it's a malfunctioning controller, damaged pipes, or faulty wiring, our team will efficiently diagnose and repair the problem, ensuring your sprinklers are back in optimal working condition.
Learn more about sprinkler repair services >>
Sprinkler Winterization
Preparing your sprinkler system for the colder months is crucial to prevent freeze damage. Our sprinkler winterization service includes draining excess water from the system, insulating vulnerable components, and shutting off water flow. By entrusting us with this critical task, you can avoid costly repairs and ensure your system remains protected during winter.
Learn more about sprinkler winterization services >>
Benefits and Advantages of Professional Sprinkler & Irrigation Services
Experience the numerous benefits and advantages of choosing Lawn Sense for all your sprinkler and irrigation needs. Our comprehensive range of services ensures the health and vibrancy of your lawn while providing you with peace of mind.
With our expertise, cutting-edge technology, and commitment to customer satisfaction, you can enjoy water-efficient irrigation, cost savings, expert repairs, and personalized solutions tailored to your specific requirements. Trust in Lawn Sense to deliver exceptional results, allowing you to sit back, relax, and admire a lush and beautiful lawn year-round.
Expertise: Our team of professionals has extensive knowledge and experience in sprinkler & irrigation systems. We understand the intricacies of these systems, enabling us to provide efficient and effective solutions.
Time and Cost Savings: By hiring professionals, you can save valuable time and effort. We have the tools and expertise to identify and resolve issues quickly, preventing further damage and costly repairs.
Water Conservation: Our services promote responsible water usage by detecting leaks, optimizing sprinkler head performance, and providing efficient irrigation solutions. This not only helps conserve water but also reduces your water bills.
Longevity of Your System: Regular maintenance and timely repairs enhance the longevity of your sprinkler system. By investing in professional services, you can extend the lifespan of your equipment and ensure consistent performance.
Peace of Mind: With Lawn Sense, you can enjoy peace of mind knowing that your sprinkler and irrigation system is in capable hands. We provide excellent service and outstanding results and exceed your expectations.
Choose Lawn Sense for all your sprinkler & irrigation needs. Contact us today to schedule an appointment, and let us help you achieve a lush and vibrant lawn all year round.
Why Choose Lawn Sense For Your Sprinkler & Irrigation Services In Dallas?
When choosing a reliable and professional sprinkler & irrigation services in Dallas, Lawn Sense stands out as the premier choice. Here's why you should choose us for all your sprinkler and irrigation needs:
Extensive Experience: With years of experience in the industry, Lawn Sense has built a solid reputation for delivering exceptional sprinkler & irrigation services. Our team of sprinkler & irrigation experts has in-depth knowledge of the local climate, soil conditions, and water conservation practices specific to the Dallas area. This enables us to provide tailored solutions that promote healthy, thriving lawns.
Highly Skilled Professionals: At Lawn Sense, we pride ourselves on our team of highly skilled sprinkler & irrigation professionals. Our technicians are licensed, trained, and dedicated to delivering top-notch services. They stay up-to-date with industry trends and technologies, ensuring they provide the most effective and efficient sprinkler and irrigation systems solutions.
Comprehensive Services: Whether you need sprinkler backflow repair, fault locating, head repair, leak detection, system repairs, or winterization, Lawn Sense offers a comprehensive range of services to address all your sprinkler and irrigation needs. From minor repairs to complete system overhauls, we have the expertise and resources to handle any project with utmost precision and care.
Cutting-Edge Technology: We utilize state-of-the-art equipment and advanced diagnostic tools to assess and diagnose sprinkler and irrigation system issues accurately. This enables us to provide fast and accurate solutions, saving you time and money. Our commitment to the latest technology ensures we deliver the highest service and efficiency.
Personalized Approach: At Lawn Sense, we understand that each lawn is unique and requires individual attention. We take a personalized approach to every project, carefully assessing your needs and tailoring our services accordingly. Our team works closely with you to understand your goals, preferences, and budget, ensuring that we provide customized solutions that meet and exceed your expectations.
Excellent Customer Service: Customer satisfaction is at the forefront of everything we do. We strive to deliver exceptional customer service at every step of the process. From the initial consultation to project completion, our friendly and knowledgeable staff will address your concerns, answer your questions, and ensure you are delighted with our services.
Commitment to Water Conservation: Lawn Sense is committed to responsible water usage and conservation. We prioritize water-saving practices like leak detection and repair, sprinkler head optimization, and efficient irrigation solutions. By choosing us, you contribute to preserving one of our most precious resources while maintaining a beautiful lawn.
When you choose Lawn Sense for your sprinkler & irrigation services in Dallas, you can expect professionalism, expertise, and outstanding results. We take pride in our work and are committed to exceeding your expectations. Contact us today to schedule an appointment and experience the Lawn Sense difference.